Audio Acoustics Projects
Specializing in audio acoustics and developing sophisticated acoustic design by our sound engineering experts.

Raising the roof without raising the roof.
Long before the term 'barrier free access' was coined, Wright State University was created with it in mind. When it was time to renovate the 350-seat Schuster Hall built in the 1970s, we had to make the audio acoustics work for as many forms of music as possible, make it beautiful to attract new performing arts students, and improve the barrier free access in the premier venue of a university known for its barrier free outreach. Ideally we wanted to increase the reverberation in the room to make it more suitable for large ensembles by literally raising the roof but this was not within budget. Instead, we introduced an electronic enhancement system, provided by ACS Systems, which simulates the experience of a much larger and more reverberant space. A strategically located cross-aisle in the middle of the audience gave the room barrier free access. This design solution meant that musicians working in wheelchairs can easily move from the stage to the audience chamber. Thanks to H3 Architects, the venue is a visually beautiful space that attracts the best students. And the acoustics are superb.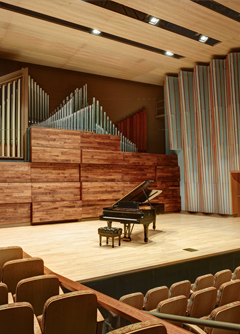 Modern technology meets old time grandness.
Historically courthouses were grand, prominent places in a community – but today they are often oppressive spaces with little natural light and poor natural room acoustics. Our goal for the Thunder Bay Consolidated Courthouse was to restore the grandness of the courts, while meeting all of the technical and acoustical requirements such as incorporating an A/V system.
Part of the project also included designing the courthouse with First Nations cultural traditions in mind that met the technical requirements. Now the entire courthouse is filled with light. And the acoustics are excellent whether the A/V system is being used or not. It has set an example of what modern day courthouses could – and should – be.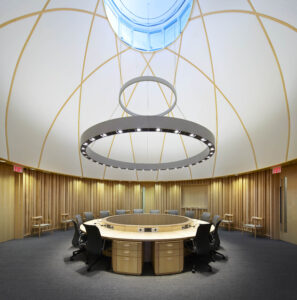 Promoting collaboration and creativity at Sick Kids.
When Sick Kids Hospital was designing their new 21-story state-of-the-art research facility, the goal was to create an environment where different research groups would benefit through greater collaboration. It also needed to include telecom facilities for international seminars and conferences. To create spaces that were both intimate and collaborative, offices and labs were open-concept with enough background noise to hold private conversations. We also helped create the 'Zipper', a series of interconnected atria shared between different research groups on five floors. A vivarium and an MRI (not in the basement where they are typically located to mitigate vibration) were also challenging, but the result has been phenomenal. The audio acoustics in the space have enhanced the ability of many different groups to excel in their activities.