For many smaller speciality consultants in our industry, developing strategic company goals to pursue certain sectors and clientele is typical, but many do not capitalize on the natural partnership of sales and marketing. Aercoustics is an exception. We use sales targets to create our marketing plan.
Aligning sales and marketing means they operate as a unified organization with a shared system of strategy, goals and communication. We have found by working together, we can concentrate limited resources on the best opportunities to grow our market share. When the overall company initiative is going in one direction, sales and marketing need to support.
There are countless studies showing a collaborative effort between the two can increase customer acquisition and help boost the bottom line. In the U.S., it is estimated that $1 trillion is lost a year due to a lack of coordination.
How to Foster Collaboration between Sales and Marketing
We've been addressing sales and marketing in strategic planning for a decade. We have always had a marketing/business development plan by sector which involved the many experts at Aercoustics. But we knew there were a couple of missing pieces: aligning our online presence with our strategic development plan by adding blogs and social media. So, we changed our strategy and started thinking like bigger organizations. By formalizing the process, we are now bringing every aspect of sales and marketing together.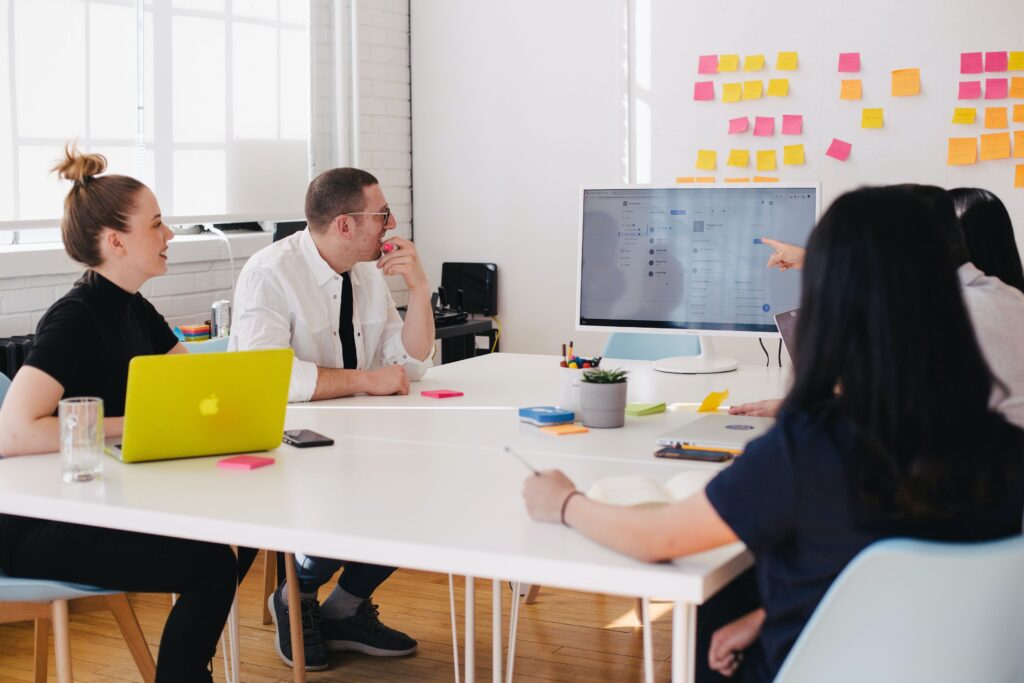 The following are tips based on the Aercoustics experience of how to bring the two departments together seamlessly:
Formalize the process: Integration begins with Aercoustics' annual strategic plan. Sales and marketing are a crucial component. When hiring for sales or marketing positions, ensure the candidate is open to the idea of integrating strategies. Our proposal writer on the sales team, for example, has joined our social media team.
Encourage collaboration: We understood marketing alone didn't attract leads and sales alone didn't close deals. It was the joint efforts that helped convert our leads to sales. To ensure true collaboration, we changed the structure of our teams. We created an internal team comprised of all levels which works together to develop and implement tactics to meet our sales goals. Then we implement the sales and marketing plan during regular touchpoints as a sales and marketing group. Together, we run through business development, marketing and social media targets- linking our PR, web presence and marketing strategy with business development and the proposal team. We stay close and communicate, keeping each other accountable, staying flexible as targets change or new opportunities arise. We are not responding to a fixed plan. It is about meeting regularly and adjusting priorities to the realities of the market.
Engage third party PR and marketing teams to support your efforts: Bolster your efforts with the help of third-party experts in marketing and PR who can help you execute your vision while you focus on the day-to-day aspects of your business and serving your clients.
This collaboration between the employee and partner levels and other departments helps create a pipeline of marketing materials and sales strategies. This alignment helps the greater team stay nimble. As a result of our new strategy, we have seen an increasing online presence and more followers. Our marketing efforts are more in line with business development as we proactively develop targeted collateral to support growth sectors.
This approach embodies one of the values of our corporate charter: "Everyone is a Leader". We rely on each other and our different expertise, pulling from everyone's experience and skillsets. This is all under corporate guidance, but with a collaborative approach. It's not authoritative and has nothing to do with titles or ego. It's all about the collective goal of achieving our sales goals as a company.