On-Going Noise Consultant Projects
Some of our on-going noise consultant projects in engineering across our many sectors.

COMMERCIAL
Mass timber buildings on complex sites.
The Catalyst Building is set to be a premiere hub for innovation in industry and academia. Eastern Washington University will be the primary tenant, needing classrooms, lab space, and innovation spaces. The project will be the first Cross Laminated Timber (CLT) office building in the State of Washington and sits next to a major regional rail line, both elements requiring a delicate acoustic design approach. Aercoustics has been supporting Katerra during site assessment, to ensure the rail noise and vibration would cause no trouble, and acoustic design for CLT buildings, a relatively new field in the industry.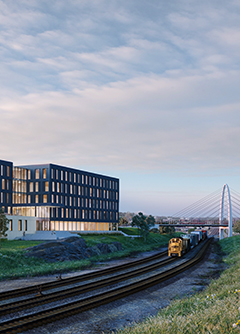 BROADCAST
Acoustics for the modern broadcast centre.
Montreal's new Maison Radio-Canada has been programmed to maximize the potential of all media and digital production. With television broadcast platforms, closed television studio, radio broadcast, multi-purpose event spaces, sensitive office spaces and live-to-air music broadcast showcasing world class performances, the new 418,000 sf, Maison Radio-Canada will deliver cutting-edge facilities for all of CBC and Radio-Canada. Aercoustics has been on the design team from the get-go, providing site measurements, layout review, detailed design, contract administration, and commissioning.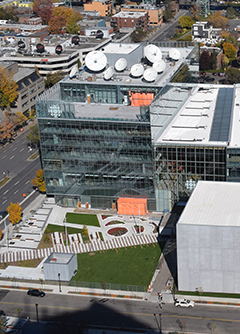 WIND
Wind Power in Minnesota.
Aercoustics is the expert wind sound consultant for the Minnesota Department of Commerce. We work with the state on an on-going basis providing due diligence engineering services, evaluating wind noise and monitoring information.